Do you know about the sardine that blocked the port of Marseille?
As I was perusing local postcards at a local flea market in Provence, I came across a curious image. The postcard depicts an enormous sardine blocking the port of Marseille. The seller, taking advantage of my ignorance and confused expression, insisted that this indeed did happen.
I asked Patrice, the local market fisherman, and he told me the whole story of how a tiny sardine managed to block the beautiful port of Marseille.

Those Darn Redcoats…
In 1778, Britain and France were once again at war due to France's allegiance to the American cause. Britain started seizing French-held Indian lands. The French, ill-prepared, managed to defend the town of Pondicherry for 10 weeks enduring heavy losses. Seeing as they were outrageously outnumbered, 10 weeks is impressive!
A Fishy Ship…
After the French capitulated, the survivors were allowed to return to France unharmed. On May 1st, 1780, one of the French ships, Le Sartine, found itself off the coast of Portugal when it was hit by a British ship, the 50 gun HMS Romney. The French captain and 2 other men were killed and the ship was significantly damaged. The English then realized that the ship was, in fact, supposed to be unharmed. They let the Sartine head home to France without further damage. The miscommunication is still a mystery. If only they could have sent an text!
A Serious Traffic Jam
It seems that the replacement for the deceased French captain found himself in a horribly embarrassing situation. Lacking the skill needed to enter the tricky bottleneck port of Marseille, he ran the ship aground right at the entry into the port, therefore blocking it entirely. All maritime traffic was halted for some time. You can just imagine all the French arm waving and gallic shrugs happening at this point.
The Outrageous Marseillais
This event was such a nuisance for the locals that to this day, the saying about the Sartine, humorously changed to sardine, that blocked the port of Marseille is common knowledge throughout France. However, outside Marseille, the story is used as an illustration for the lengths of exaggeration the Marseillais will go to when they tell a story.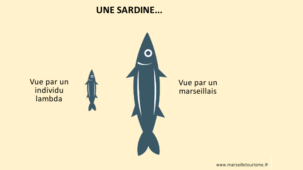 Every so often, you'll come across a fabricated story, complete with a photoshopped sardine, to say that indeed an 11-metre long sardine was found off the coast of Marseille. The headline will claim "the legend is true!!"
Sadly, it was the Sartine ship and not a freakishly large sardine that blocked the port of Marseille.
I much prefer the fishy version.